Autism Awareness Gifts
Novelty items and other gifts that help to spread awareness.
---
I Heart (love) Somebody With Autism Teddy Bear
Your choice of WHITE, PINK, or BLUE shirt on the plush stuffed animal bear. 11 inches tall.
---
Puzzled Tree of Life Mouse Pad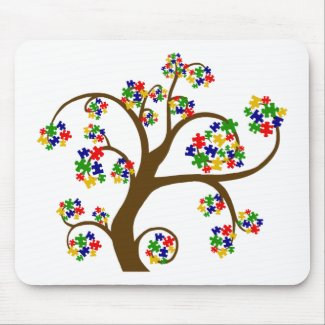 Decorate your desk with your favorite image or choose from thousands of designs that look great and protect your mouse from scratches and debris. You can also create a custom mousepad with your own uploaded artwork!
---
Fidget Set
Guaranteed to keep kids hands busy. This ultimate fidget set is a selection of our best selling fidgets with a variety of textures and features.
---
All My Pieces Fit Teddy Bear
Your choice of PINK, BLUE, or WHITE BEAR. Put a smile on someone's face. Just grin and bear it! 11 inches tall.
---
Wikki Stix Activity Set
This developmental toy will help develop fine motor skills and so much more. Highly durable and reusable, this set features a whiteboard, eight page activity guide, 84 Wikki Stix and a carrying bag.
---
Puzzled Tree of Life Neckties
Men's tie. Click through to view other products with this design.
---
Twist and Spell Exercise Cards
Get kids moving to learn their letters and work on spelling. Kinesthetic learners will love moving their way through the alphabet as they learn their ABC's! Kids love learning the unique pose for each letter. For ages 4+.
---
Autism Awareness Puzzle Piece Socks
Fits ladies shoe size 5-10.
---
Autism Awareness Scarf
Measures 5 feet long and 8 inches wide. This is a velour finish fleece. It offers extra loft, densely-packed fibers and a smooth texture. Warmth without weight and bulk. Breathable and comfortable through a range of activates.
---
Browse our other departments (listed below) for more great gift ideas for when you need something for somebody who "has everything"!
---
AWARENESS MERCHANDISE:
AUTISM AWARENESS PRODUCTS | PERSONAL CHECKS | CHECKBOOK COVERS | POSTAGE STAMPS | STATIONERY | ADDRESS LABELS | T-SHIRTS | HATS | BAGS | BRACELETS | PINS/BUTTONS | NECKLACES | EARRINGS | COFFEE MUGS | KEYCHAINS | GIFTS | iPHONE COVERS | iPAD MINI COVERS | KINDLE COVERS | POWER BANKS | MOUSE PADS | LICENSE PLATES | MAGNETS | STICKERS | KEYCHAINS | LANYARDS | PENS/PENCILS | SIGNS | DEVELOPMENTAL RESOURCES
---